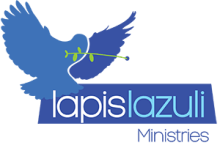 Kingdom Intervention Conference
8am - 7pm, Thursday 31st August to Saturday 2nd September
A Healing and Prophetic Word Conference
Crispan Hotel (Event Centre), Rayfield, Jos, Plateau State, Nigeria
(With Viewing Centres in Nigeria and across the world)
Conference will be streamed in Hausa, French and English
Conference is free but Registration is required.
We exist to awaken the body of Christ to the extravagant love of God the Father, God the Son and God the Holy Spirit. 
Lapis Lazuli Ministries aims to achieve its mission by coming alongside Churches and other bodies of believers and encouraging trainings through conferences, seminars and outreaches, to express the supernatural life of Jesus Christ as modelled by Him.
We express God's love in different streams and you may engage with us via any of the channels below.
Listen to life-changing messages that express the Father's love.